Aogashima Island Travel Blog / Tourism Guide
Ikenosawa Caldera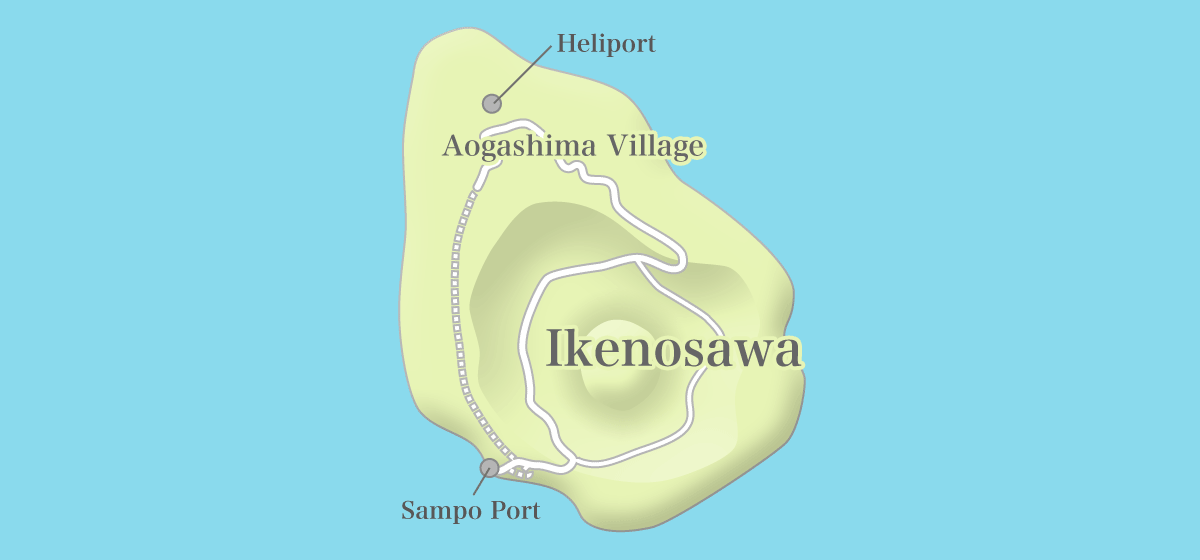 Ikenosawa seen from Nagashizaka hill
Aogashima is an island which consists of a compound volcano, and its characteristic terrain can be seen from Ikenosawa.
Leaving the village and walking on a road on the east.
A road for Ochiyo.

Speed is restricted to 30km an hour in the whole island.

Overlooking Ikenosawa from the top of Nagashizaka hill.
If you go to Ikenosawa, go along the road on the east side from the village and go down to the inside of the caldera from the somma. The spot where you go down the somma is called "Nagashizaka hill". There are a tunnel (Heisei-nagashizaka tunnel) and an old road there. Pedestrians can take either way, but drivers should take the tunnel because the old road is dangerous.
The diverging point between the tunnel and the old road.

This is a tunnel opened to traffic at 1992.

Nagashizaka hill is the only route down to Ikenosawa from the somma.
Ikenosawa seen from the top of Nagashizaka hill is exactly a marvelous view. You can feel close to the natural formative art, like the somma with a bowl shape and pudding-shaped Mount Maruyama sticking out from the center of the somma.
I took a route of going down the old road, Nagashizaka hill this time. When I went into the somma, "bowl", I had a strange feeling that I have never experienced.
Going into the caldera little by little

The guardrail at the edge of a curve is gone... What the hell is this?

Going down the slope, You will arrive at the bottom of the caldera.
The road merges with the current road, running down to the bottom of the caldera.
Walking at Ikenosawa
A road to Sampo port is paved only for the width of one car.

Walking on opposite Sampo port.

An abandoned construction vehicle.
The inside of the caldera is a dense forest. In Ikenosawa, there are not any houses but fields, warehouses and factories because a lifeline is not maintained.
A service road running through the inside of Ikenosawa.

At the site of the demolished island government office, there stands a solitary swing.

A hut which stands in a vacant space.
It is said that the center of the village was in Ikenosawa in Edo period. This is because Ikenosawa was surrounded by the somma and was hardly influenced by strong winds, and geothermal steam was able to be utilized for life, and Ikenosawa had water source, so it had no trouble with water. There were such advantages for living in Ikenosawa. Today, the traces that Ikenosawa is the center of the village are only the site of the demolished island government office (somehow, there stands a solitary swing) and stone walls left at some places.
You can also climb Mount Maruyama that rises in the middle. When you start walking from the starting point near the campground, you will get there in about 20 minutes.
Visit Day

2011/08/07 - 10
Contents of This Report