Aogashima Island Travel Blog / Tourism Guide
Hotels(Business Inn Nakazato), Hingya Saltworks, Aogashima Rave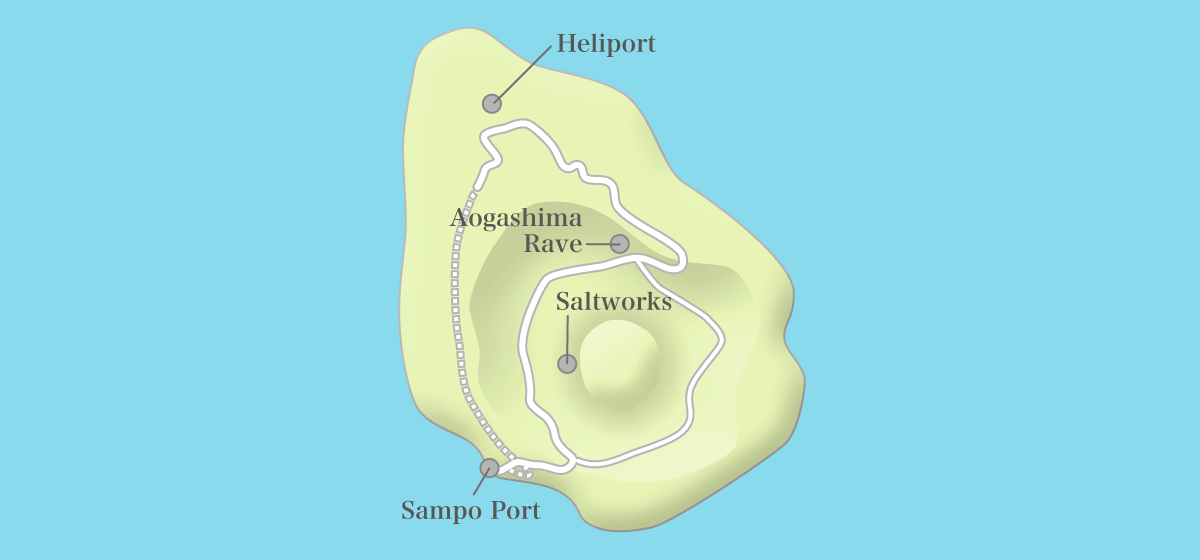 Business Yado (Inn) Nakazato
The inn where I stayed this time is "Business Yado Nakazato", the largest inn in the island.
I do not know whether it is just because it has just been redecorated, but all the guest rooms are so clean and well-equipped with toilet seats with bidet functions and automatic washing machines.
There is a communal bathroom with two showers and a small bathtub, which you can use it 24 hours a day. When I stayed there, there were few guests and I was able to use it all alone.
You can watch live videos of the port and the heliport on the island's channel.
The guest rooms also have brand-new TVs. By the way, Aogashima has its own broadcast channel (11ch) which broadcasts the conditions of the heliport and Sampo Port (Aogashima Port) live 24 hours a day. If the helicopter or the ship is canceled, the inhabitants cannot receive everyday commodities and postal matters, which means it affects their lives. Public transport is their major concern. And, at the bottom of a TV screen, an announcement from the village office is often displayed. And information about the events in the island are also displayed, so it is often used as a message board of the inhabitants of the island.
There are no eating houses outside in Aogashima, so the inns like Business Yado Nakazato serves you three meals a day. And also, you can have them make a lunch to take away as necessary.
The home-made Shimazushi preserved in mustard sauce is a little red.
In Business Yado Nakazato, they serve you some sliced raw fish with fresh seafood and local dishes of the island and full-course dinner with meat dish. They are so much that I cannot eat it all. For example, they serve 15 pieces of Shimazushi per person, with side dishes.
They have many fresh seafood.

You can enjoy the dish unique to the island.
The person who manages Business Yado Nakazato is Junko-san, an okami. It is rumored that she is really good at cooking and cutting fish with an edged tool. Her home-made sauce is sold at a shop used for testing sales of new products in central Tokyo. Nakazato is 9,000 yen to stay at for a night, comparatively expensive, but the equipment of the inn and the splendid dishes made me think it was rather valuable. By the way, the owner of Nakazato is a brother of the owner of "Aogashimaya," another inn in the island, and when either of the two inns is fully booked, they introduce a guest to each other.
Hingya Saltworks
"Hingya" means a "fumarole for steam coming out" in Aogashima dialect. Aogashima as a whole is an active volcano and terrestrial heat blows out everywhere in Aogashima. There is a factory which produces salt from seawater, utilizing Hingya, in Ikenosawa. I became acquainted with a group of two women at Aogashima Rave (Later mentioned) and they drove me to Ikenosawa.
The inhabitants of the island call "Hingya" the places terrestrial heat blows out.
At the bottom of Mount Maruyama in Ikenosawa, there is an area where terrestrial heat blows out, and there are also a terrestrial heat sauna and salt manufacture factory side by side there.
And also, there are five cooking pots to heat by using terrestrial heat, which anybody can use freely. All you have to do is to prepare your ingredients, turn on the cock and wait for 20-30 minutes. You do not have to pay for it.
A factory which produces "Hingya Salt."
It is very hot in the factory and the heat of the entrance is suffocating. The temperature was over 30゜C even in the entrance. And the high-temperature chamber to evaporate seawater was like a sauna.
The temperature of terrestrial heat is unstable, so the machines need adjusting at each time. It is a tough job.
After going to the Salt manufacture factory, I went to "Hureai Sauna" which utilizes terrestrial heat. The entrance fee for it is 300 yen including a rental bath towel and a face towel. When I finished checking in at around 6:00pm, there were no other guests, so I was able to use it all alone. Before going in the sauna, the bathroom was too hot, anyway. I do not know if it is because of the steam heat, but it was too hot to walk inside the bathroom although a blue mat was laid out. And also, when I turned on the tap, hot water only came out, so I had difficulty getting used to it. And the hot water in the bathtub was so hot that I could not get in the bathtub.
"Hureai Sauna" which utilizes terrestrial heat.
The inside of the sauna was full of natural steam, a so-called mist sauna, and I could not stand on the planking. I had to lay out a rental towel to endure the heat. Personally, I think that my patience will reach its limit in only 30 seconds, and if my patience reaches its limit in one minute, it will be great.
Aogashima Rave
While I was walking around the village in Aogashima, I had a chance to talk with young men who finished Haka-kari, and they invited me to an event called "Aogashima Rave." They said that the place is Ikenosawa and this is the event which people can eat and drink while listening to music. I am not a person who wants to join in such an event, but this was Aogashima. I felt something special and decided to try it.
The dishes and barbecue that everybody brought were on the table.
"Aogashima Rave" is an event which the young people in Aogashima, who are the main members, plan and manage. This is the first trial in Aogashima. Originally, the same event used to take place in Hachijo-jima, and the young people in Aogashima asked the Hachijo-jima staff to help them have an event, and it has become a reality. They say "If it goes well, we want to do it every year." On the other hand, they decided to hold the event on the same date as Haka-kari, so some elderly people looked puzzled. In the first place, Haka-kari is an event that all the inhabitants of the island mow the grass in Aogashima where there are many neglected spirits. According to custom, a drink party will also take place after mowing. When there is an event, it is like a rule of the island for all the people to join in the event regardless of age or gender. Some elderly people say "We would join in Aogashima Rave if it was not the same date as Haka-kari." Their voice is a little heart-warming.
When I went to the site at around 6:00pm, not many people were gathering there. The site is the warehouse of "Ikenosawa Automobile repair factory" which was newly built this year. There were some outdoor tables and barbecue stuff. It was not like a music event but an outdoor party by a neighborhood association, it had a homely atmosphere. When the sun set and it got dark, people gradually gathered. I think that people came after they did Haka-kari.
They included me in their group.
I was a complete outsider, but I was able to join and chat with them. The young people who was back to the island during the Ushi-matsuri (Ushi Festival) and some DJ staff invited from Hachijo-jima were also there. Aogashima was different from what it is as usual. There were also a DJ who is a high school teacher in Hachijo-jima and a former Monji girl whose family member runs an inn in Hachijo-jima. Their birthplaces and careers are various, but they were sharing the same time in Aogashima. I had a strange feeling about the coincidence.
Finally, less than 40 people gathered, I think. I left there at around 10:00pm, but the party continued until midnight. I had a great time there.
Next : Mikonoura Beach, Jouman
Visit Day

2011/08/07 - 10
Contents of This Report